In Clouding you have several Anti-DDoS systems included that prevent and filter denial of service attacks dynamically, keeping your servers available.
In the event that your applications receive a large number of DDoS attacks on a regular basis, it will be advisable or essential to activate the Strict Anti-DDoS functionality during the creation of your server for the proper functioning of the application.
Enable Strict Anti-DDoS when creating your server
When you are creating your new server you will see at the bottom of your client panel the option to enable Strict Anti-DDoS filtering. Here's how to activate it: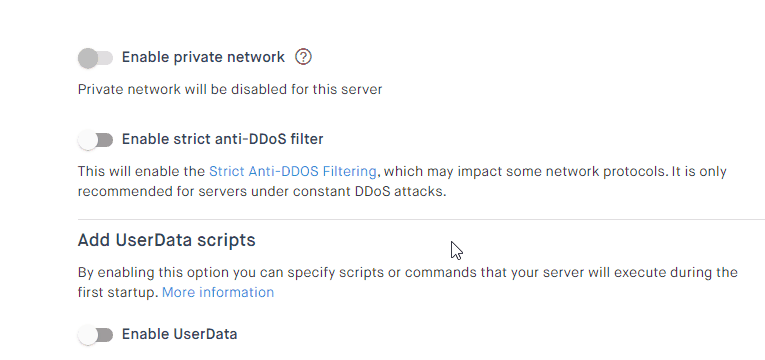 If you activate this feature you will not have any additional cost. And if you do not activate it, your servers will continue to be protected by the powerful Anti-DDoS filtering included for all servers.
 We do not recommend using Strict Anti-DDoS if you...
If your server does not receive constant attacks, we do not recommend enabling this option, as it can have adverse effects on certain applications such as VPN servers, DNS, RDP or monitoring servers, among others.
Enabling Strict Anti-DDoS on an already created server
Read here how to enable strict filtering on a previously created cloud server.
The procedure is simple: first you will need to clone the server on which you want to activate Strict Anti-DDoS. To do this, go to the "My servers" menu, choose the server you want to clone, click on the drop-down menu on the right and go to "Clone server" as shown here: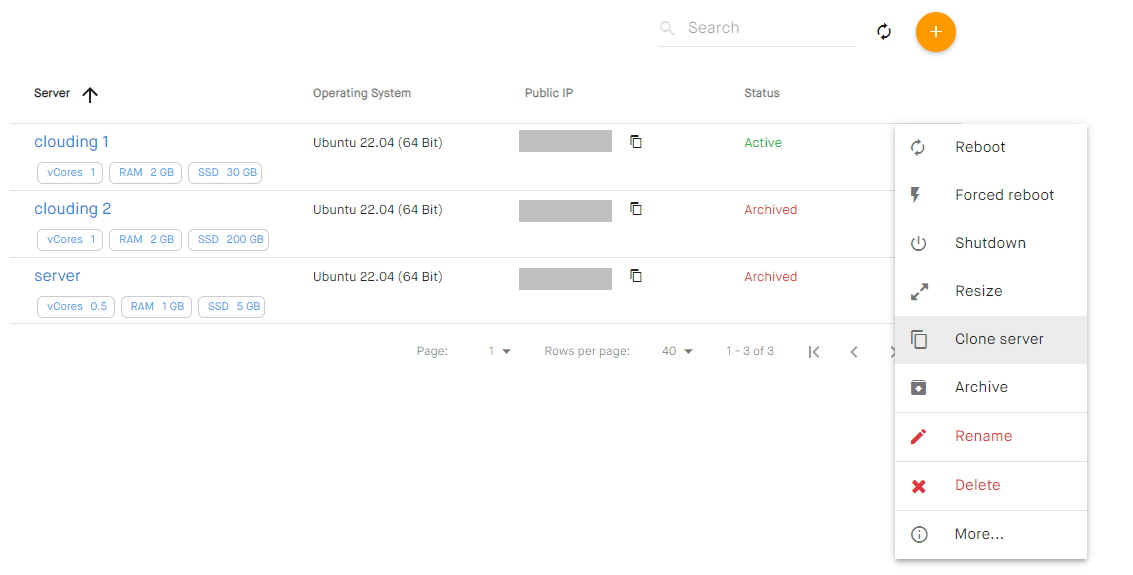 And once inside the server creation, simply activate the strict filtering option during the process, as we have shown above.
We remind you that by cloning a server you will keep all the information of the original server, but a new IP of the new server will be generated.
In a few seconds you will have a server clone ready with strict filtering enabled and you will only have to reconfigure the new public address of the server in the application if necessary.
Can I enable and disable Strict Anti-DDoS on my server?
Strict Filtering cannot be disabled once the server is created, because to enable or disable it you need to change the IP of your server - the strict filtering IP ranges are different - and therefore it is not a change that can be made at any time.
But as we have shown you, you can clone your cloud server and when creating the copy of it, you can choose whether to enable or disable Strict Anti-DDoS Filtering for your cloned server.
 Remember...
If you decide to enable Strict Anti-DDoS on a server for VoIP applications such as TeamSpeak or Asterisk or game servers, remember that there are certain rules.  For this reason, keep in mind that it is important to use the default ports for the dedicated rules to work.
On the other hand, remember that it is not possible to analyze encrypted traffic without a proxy. Therefore, for Web applications you should use Cloudflare or a similar service instead of our Strict Anti-DDoS.
We hope we have helped you with this article! 🙂 Remember, if you have any questions about this or any other issue related to your Clouding servers, do not hesitate to contact us at support@clouding.io We are at your side for whatever you need!