In order to create your first Server, go into your control panel and click on "SERVERS". Once you are in, click on the blue button "Click here to create your first Server".

A window will open and you will have to choose:
Name of the Server.
The image. You have Windows as well as Linux pre-installed images at your disposal, in order to make the setup of the server easier for you. A pull-down menu will appear with all the options available for you.
Resources of RAM, CPU and SSD disc that you want. Remember that you can increase them or reduce them any time, except for the ssd disc, which can be increased, not reduced.
The setup of the firewall. You can set one up yourself or choose the one that is there by default.
The access setup through the SSH Keys. You can set them up yourself or choose from the ones that are there by default.
The backups. The setup of the backups is optional but we highly recommend it in order to keep your data Server safe. You have to choose the number of backups (the minimum is 2 and the maximum is 30) and its frequency (daily, every 2 days, 3, 4, 5, 6 or 7 days). Its price, which is very economical, can be pre-visualized in the panel.
Click on "SEND". Within a few seconds your server will be created. Congratulations! Your first server is active 🙂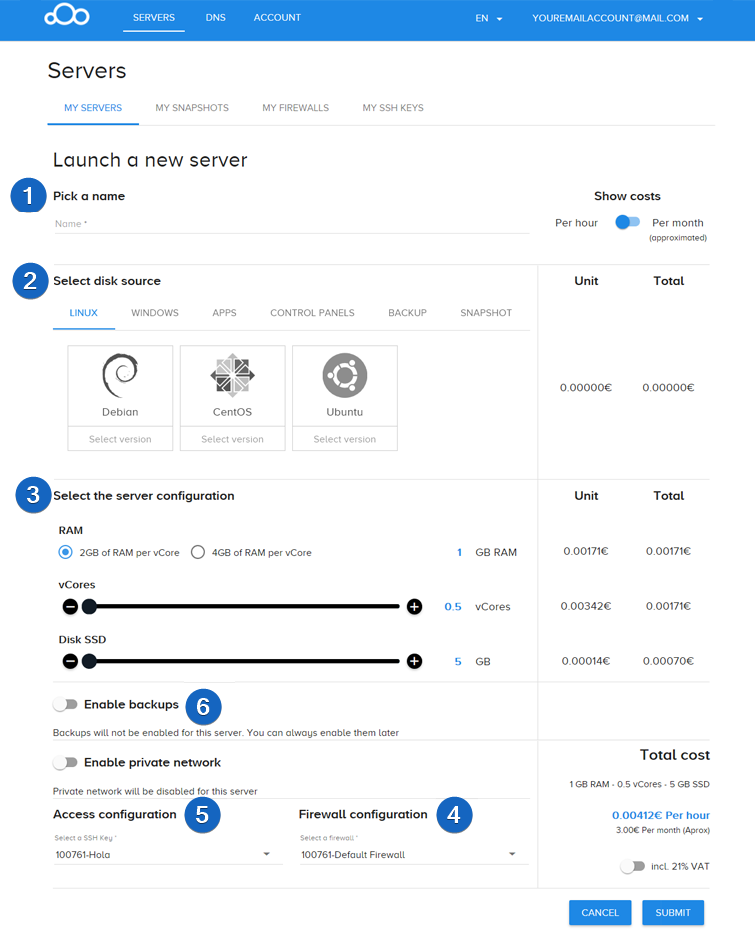 The password in order to access your Server is generated while it starts for the first time. It is possible that while you are waiting for the Server to be created, you see a message "Waiting for Password". This is normal as it takes a few seconds. As soon as the password is generated, it is sent to your e-mail.
A few images are updated or installed the same moment the Server is created, so it is normal that it does not allow you to do installations until it is finished. One way to check if the installation is finished is opening the VCN console of the Server from the client panel. If it asks for a login, everything is ok. Example of installation of VestaCP: