Every time that you add balance to your client panel, you will get the bill by e-mail. The options to add balance are the manual refill and the Auto-Refill.
Manual Refill
In your panel, click on "ACCOUNT". In "Your balance", click on the "Add more credit" tab.

Add the desired amount and the payment method that you want to use.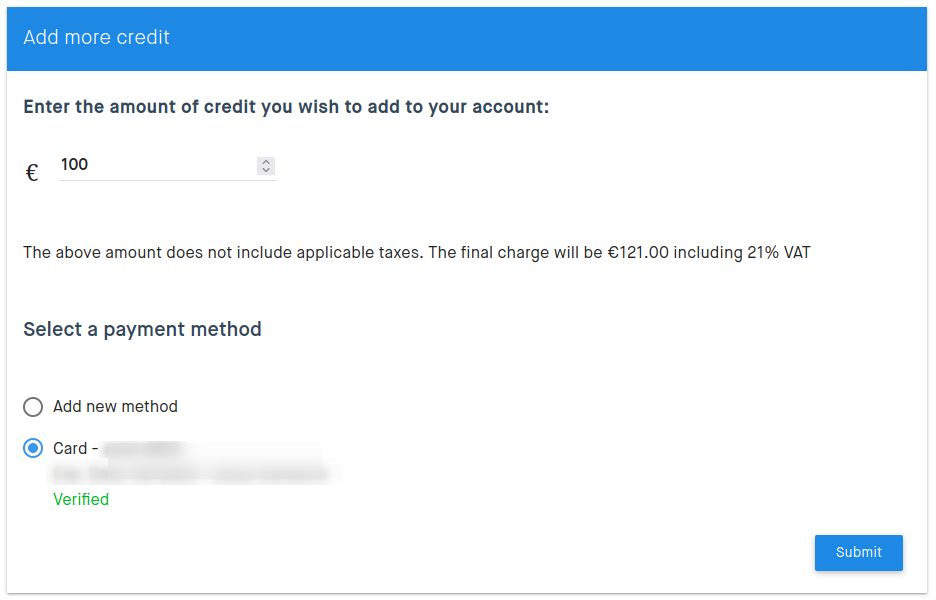 You will be able to see the added amount immediately on your control panel.
Auto-Refill
In your panel, click on "ACCOUNT". In "Notifications and Auto-Refill", click on the red button with the pencil symbol.
You will have to choose two amounts and the desired payment method. Regarding the amounts:
The threshold under which you want the system to refill balance (for instance, 30€).
The amount you want the system to refill automatically (for instance, 100€).
In the example, we have chosen that when the balance is below 30€, the system will automatically charge 100€.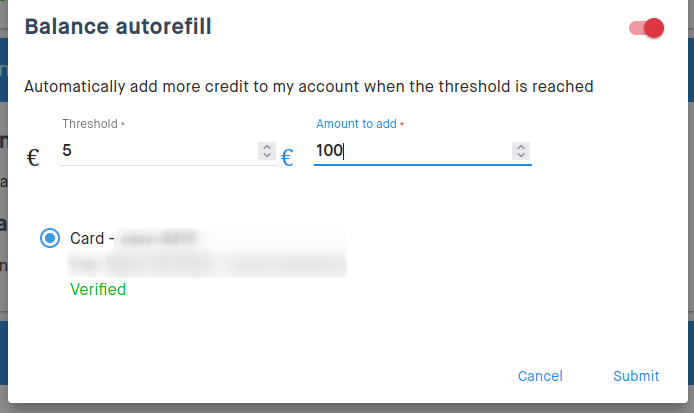 Once the Auto-Refill is set up, refills will be done automatically. You won't have to worry about checking out your balance or making sure it does not go under zero. The parameters of the Auto-Refill system, the threshold as well as the amount to be refilled and the payment method can be changed any time.
In the event that the chosen payment method is direct debit, it can take up to 72 hours to be confirmed. The bill will not be generated until the balance is added to your panel
Importante
If you need to use this payment method, you must contact us at soporte@clouding.io so that we can activate the SEPA option in your account.
If you set up a very low balance, within the period of time between the payment order and its execution, the balance can reach an amount under zero. We recommend you take this into account and not set up a low threshold in order to avoid your server temporarily reaching a negative balance.