To reset the password of your server you will need to follow these instructions depending on how you have created the server.
If your server has cloud-init configured, you will need to click the button at Reset Password: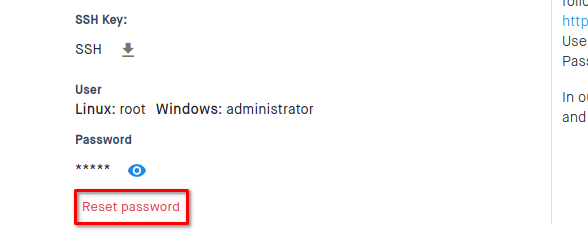 After clicking on the button, you will be prompted to confirm the password change. password change, which requires a server restart.

If you click OK, the password change process will start and the server will restart. and the server will restart.

Once the process is finished, you will be able to see the new password.
Important
Please note that if your server has been created from a clone or snapshot/backup or if it is a migration from another provider to Clouding. snapshot/backup or is a migration from another provider to Clouding, this process will not work correctly.
If during the creation of the server you chose a password or selected an SSH key, when you click on the Reset Password button, a prompt to change the password will open: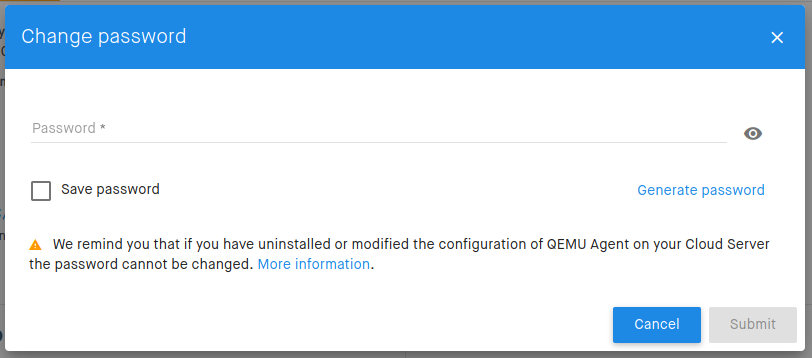 Here you can put a new password and check the option Save password to later be able to view it directly in the Clouding portal. You also have the option to generate password.
Important
Keep in mind to put a strong password to access by SSH. Though the server is to test the password must comply with the following requirements:
Minimum 8 characters

Upper case and lower case

Numbers

Punctuation marks
This process, unlike the previous one, does not require a server restart and the password is changed "on the fly".
Important
If during the process of changing the password a red warning appears in the Clouding Panel, it is possible that the qemu service is not working correctly. So you will have to check that the qemu-guest-agent service is active. Once the service is active, retry the password change process.
If your server's operating system is Windows Server and you can't change the password, you will have to contact us at Support. If your operating system is GNU/Linux, you can change the password from the Emergency Console and following our tutorial.
We hope we have helped you with this tutorial. Have you tried it? Leave us your comments! 🙂
If you have any questions about how to manage your SSH keys in Clouding, please contact us at support@clouding.io
Our Technical Support team will be happy to help you!